This year's poster for the New York Film Festival features a photograph by Gregory Crewdson, a photographer whose work has always intrigued me but whose name was not really familiar until now. He does large-scale photos usually situated in a suburban setting, often adding enough light and fog to create a slightly spooky and curious mood. These are wonderful photographs, often capturing the stark loneliness and alienation of people from their surroundings in incredibly cinematic ways. I was lucky enough to get a signed poster this weekend (after almost punching a rude older woman in the gut after she cut me in line and then sneered at me/tried to pick a fight.)
The previous collection, "Twilight," was apparently inspired by Spielberg's
Close Encounters of a Third Kind
, which is clearly seen in photos such as this:
Comparisons to David Lynch have often been made, which is especially true in photos such as this:
While I tend to think of the covers of Raymond Carver story collections, especially in photographs such as this:
Lastly, American painter Edward Hopper can also be seen as a comparative artistic voice in photos like this: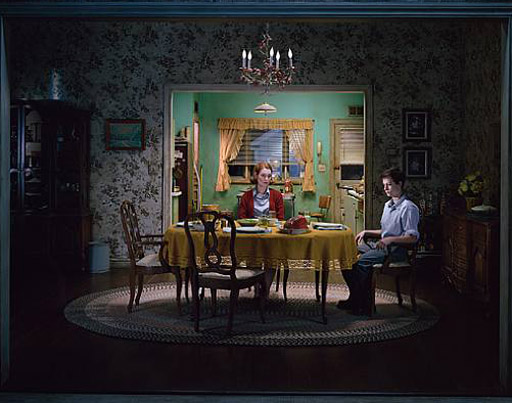 This latest poster is part of the series titled "Beneath the Roses."
The
Auteurs
picked it as poster of the week and the filmlinc blog has an
interview
as well as a
video.
Enjoy.